40,000+ ADA SIGNS IN-STOCK AND READY-TO-SHIP!
FREE USA GROUND SHIPPING ON ALL STOCK SIGN ORDERS $99+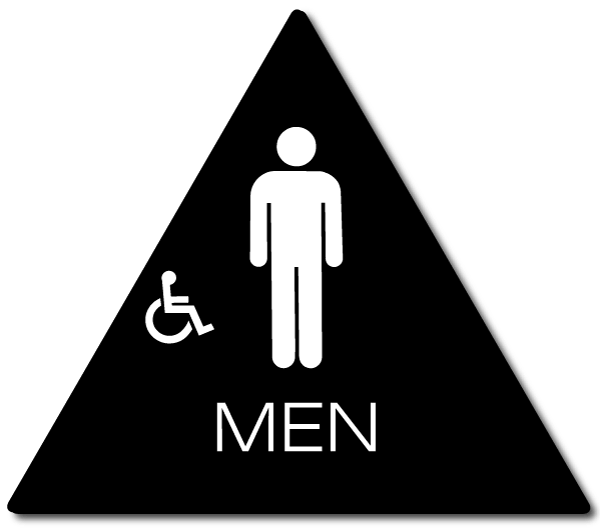 California MEN Accessible Restroom Door Sign
$39.95 – $79.95
Description
An ADA-compliant California DOOR sign made from durable, vandal-proof, high-impact CAD-cut acrylic.
Available in five stock colors plus MetalGraph, LaserGlow and 40+ custom colors at an upcharge.
Sign size: 12 inch triangle x 1/4 inches thick.
Tactile graphics raised 1/32 inch above base.
Easy-to-read lettering in a high-contrast color, 5/8 inch tall.
No Braille.
Adhesive foam mounting strips included on the back to hang sign on wall.
A made-to-order sign that ships within 5 business days for the standard color options shown.
Custom Color Options ship within 10 business days. SEE CUSTOM COLORS >
This is a DOOR SIGN for California Title 24 VISUAL requirements.
This sign is mounted to the door. The color of the sign must contrast with the color of door. Per California Title 24, raised tactile lettering, symbols and braille are not required nor prohibited on these door signs.
To fully comply, the WALL SIGN shown below as a Related Product must also be installed to meet State of California ADA requirements.
For complete sign specs and installation requirements: California Building Code 11B-701-703 for Communication Elements (PDF)
Additional information
| | |
| --- | --- |
| Weight | 11.00000000 oz |
| Dimensions | 12.0 × 12.0 × 0.25 in |
| COLOR | BLUE / WHITE, BLACK / WHITE, GRAY / WHITE, TAUPE / BLACK, BROWN / WHITE, CUSTOM COLORS, STEEL / BLACK, COPPER / BLACK, LaserGlow / BLACK |