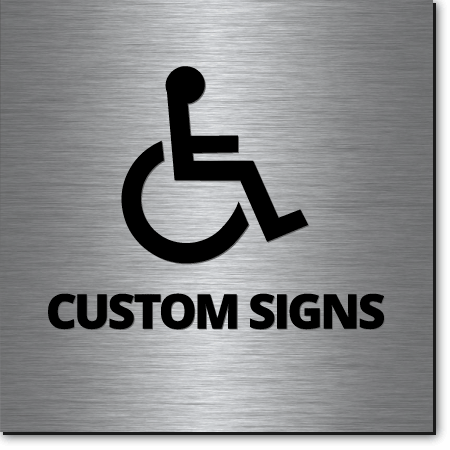 Custom Sign Pricing Request
Get Pricing for Your Project, Fast & Easy!
BEFORE YOU BEGIN: Do you have a general question about custom ADA signs? Are you simply looking for a super-quick ballpark price? Save time and send an email to custom@adasignfactory.com or call us toll-free at 1-888-232-7491. We're happy to answer any questions.
USE YOUR ACCOUNT: If you already have an account with us, please LOG IN before beginning a pricing request. Our online quoting system is interactive, so existing customers see their contact data added to the quote request form automatically. If you do not have an existing account with us, the system works best if you CREATE AN ACCOUNT before you begin your quote request.
TO SUBMIT A PRICING REQUEST: click the Begin Your Pricing Request button below. On the page that follows, complete the form then list the custom signs you need in the Project Details field. Be sure to include descriptions of each sign's text/graphics, quantities, colors, thickness, custom sizes, etc. Don't worry if you miss a detail in this initial request, you can supply more information as we go.
You can also upload a file listing the required signs (txt, doc, docx, odt, xls, xlsx, ods) or provide art files (png, jpg, pdf, ai, psd, gif, webp, svg) to be used for this custom sign project.
Once you've finished the form, click the Send Your Request button. From there, you should see a confirmation page on the website and receive a confirmation email in your inbox.
After we receive your quote request, we will detail each sign required as a line item within a quote then send it to you by email. If we need to adjust the quoted items, just let us know what changes are needed. You'll be notified by email when those changes or additions are ready for another review. Once the price quote matches your requirements, you can approve the quote then submit payment to get production started.
Ready to go? The ADA Sign Factory looks forward to working with you on your Custom Sign Project!
Additional information
| | |
| --- | --- |
| Weight | 5.0 oz |
| Dimensions | 6 × 6 × .0625 in |