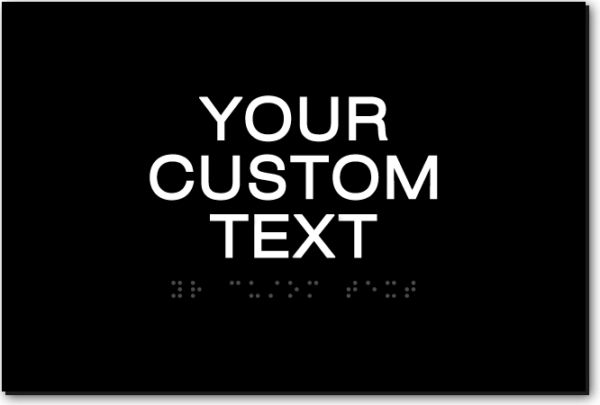 YOUR CUSTOM TEXT Sign – 9×6
$29.00 – $50.95
SAVE TIME WHEN ORDERING MULTIPLE SIGNS: if you need multiple signs of the same size/color but with varying text or numbers, there is no need to order each sign individually. Instead, order a multiple quantity then detail the sign content required. EXAMPLE: if you need six 'Storage Closet Number' signs of the same size/color, enter a quantity of 6 signs next to the Add to Cart button, then in the 'Your Custom Text' field enter "Storage Closet 101 – 106".
Description
Create ADA signs with CUSTOM TEXT AND BRAILLE on our most common sign sizes! A customized ADA-compliant sign made from durable, vandal-proof, high-impact CAD-cut acrylic.
This sign is made-to-order using the wording you list in the CUSTOM TEXT box on this page.
Available in five stock colors plus MetalGraph, LaserGlow and 40+ custom colors at an upcharge.
Sign size: 9 inches wide x 6 inches high x 1/16 inches thick, with laser cut edges and square corners. Also available using 1/8 inch thick substrate for an upcharge.
Tactile graphics raised 1/32 inch above base.
Easy-to-read lettering in a high-contrast color, from 5/8 inches to 2 inches tall.
Dome-shaped Grade 2 Braille meets CA Title 24 requirements.
Adhesive foam mounting strips included on the back to hang sign on wall.
A made-to-order sign that ships within 5 business days for the standard color options shown.
Custom Color Options ship within 10 business days. SEE CUSTOM COLORS >
YOUR CUSTOM TEXT GUIDELINES: 1-4 lines of text maximum not exceeding 10 -12 characters per line.
Please note your text may not always fit as requested. If so, our sign design team will contact you. We will send a proof for approval before starting any fabrication!
'YOUR CUSTOM TEXT' REQUIRED FOR PRODUCTION
After selecting a sign color, use the YOUR CUSTOM TEXT box to list the wording required to customize each sign following the guidelines above. EXAMPLE: if you need a blue Custom Text sign, select the blue color option, list the wording required in the textbox, then add that sign to the cart. If you also need a black sign with different wording in that same order, repeat the process by selecting a black sign then noting the text required and adding it to the cart. You may also indicate a specific font height or other instructions in the textbox. Questions? Call 1-888-232-7491 or email us.
Additional information
| | |
| --- | --- |
| Weight | 5.00000000 oz |
| Dimensions | 9.0 × 6.0 × 0.0625 in |
| COLOR | BLUE / WHITE, BLACK / WHITE, GRAY / WHITE, TAUPE / BLACK, BROWN / WHITE, CUSTOM COLORS, STEEL / BLACK, COPPER / BLACK, LaserGlow / BLACK |