40,000+ ADA SIGNS IN-STOCK AND READY-TO-SHIP!
FREE USA GROUND SHIPPING ON ALL STOCK SIGN ORDERS $99+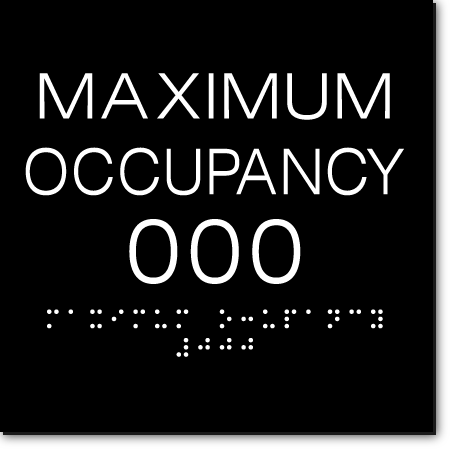 MAXIMUM OCCUPANCY Customized Sign
$20.50 – $33.95
SAVE TIME WHEN ORDERING MULTIPLE SIGNS: if you need multiple signs of the same size/color but with varying numbers, there is no need to order each sign individually. Instead, order a multiple quantity then detail each of the numbers required. EXAMPLE: select the color option, enter the total quantity of signs needed next to the Add to Cart button, then in the 'Custom Numbers' field enter the numbers required, i.e. "100, 125, 300".
Description
A federal ADA-compliant sign made from durable, vandal-proof, high-impact CAD-cut acrylic.
Available in five stock colors plus MetalGraph, LaserGlow and 40+ custom colors at an upcharge.
Sign size: 6 inches wide x 6 inches high x 1/16 inches thick with square corners (or 1/8 inches thick on Steel or Copper MetalGraph and LaserGlow).
Tactile graphics raised 1/32 inch above base.
Easy-to-read lettering in a high-contrast color, 5/8 inch tall.
Dome-shaped Grade 2 Braille meets CA Title 24 requirements.
Adhesive foam mounting strips included on the back to hang sign on wall.
A made-to-order sign that ships within 5 business days for the standard color options shown.
Custom Color Options ship within 10 business days. SEE CUSTOM COLORS >
'SIGN NUMBERS' REQUIRED FOR PRODUCTION
After selecting a sign color, use the SIGN NUMBERS textbox to list the number required to customize each sign. Example: if you need four blue signs, click the blue color option, list four numbers or initials in the box, edit the Qty field to 4, then add those signs to the cart. If you also need two black signs in that same order, repeat the process then add the black signs to the cart. Questions? Call 1-888-232-7491 or email us.
Additional information
| | |
| --- | --- |
| Weight | 2.00000000 oz |
| Dimensions | 6.0 × 6.0 × 0.0625 in |
| COLOR | BLUE / WHITE, BLACK / WHITE, GRAY / WHITE, TAUPE / BLACK, BROWN / WHITE, CUSTOM COLORS, STEEL / BLACK, COPPER / BLACK, LaserGlow / BLACK |