40,000+ ADA SIGNS IN-STOCK AND READY-TO-SHIP!
FREE USA GROUND SHIPPING ON ALL STOCK SIGN ORDERS $99+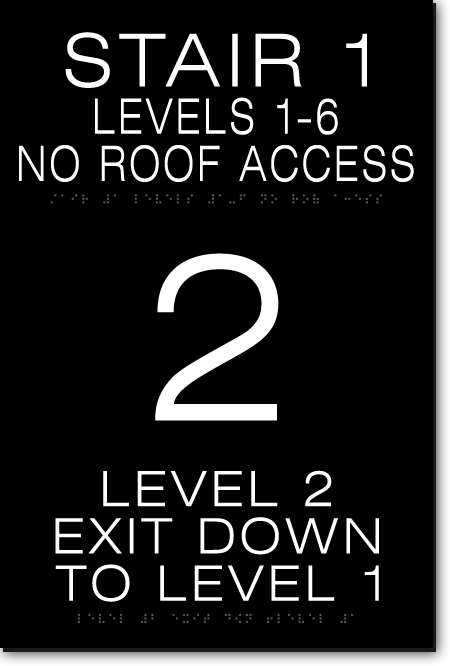 IBC / IFC FLOOR STAIRWELL Customized Sign
$133.95 – $203.95
Description
International Building Code (IBC) and International Fire Code (IFC) from 2012 on require Floor / Stairwell identification signs to be installed in all interior exit stairways and ramps of buildings.
A CUSTOMIZED ADA-compliant sign made from durable, vandal-proof, high-impact CAD-cut acrylic.
This sign is made-to-order using the numbers and information you list in the SIGN NUMBERS box.
Available in five stock colors plus MetalGraph, LaserGlow and 40+ custom colors at an upcharge.
Sign size: 12 inches wide x 18 inches high x 1/16 inches thick with square corners (or 1/8 inches thick on Steel or Copper MetalGraph and LaserGlow).
Per IBC / IFC code, each sign requires five (5) components:
– 1.5" font identifying Stairwell (ex: North, South, East, West; or 1, 2, 3, 4; or A, B, C. D)
– 1" font which floors or levels included in stairwell (ex: 1-5, B-5, G-5,)
– 1" font stating Roof Access or No Roof Access.
– 5" font current Floor or level number or designation
– The floor or level that is the building main exit to outside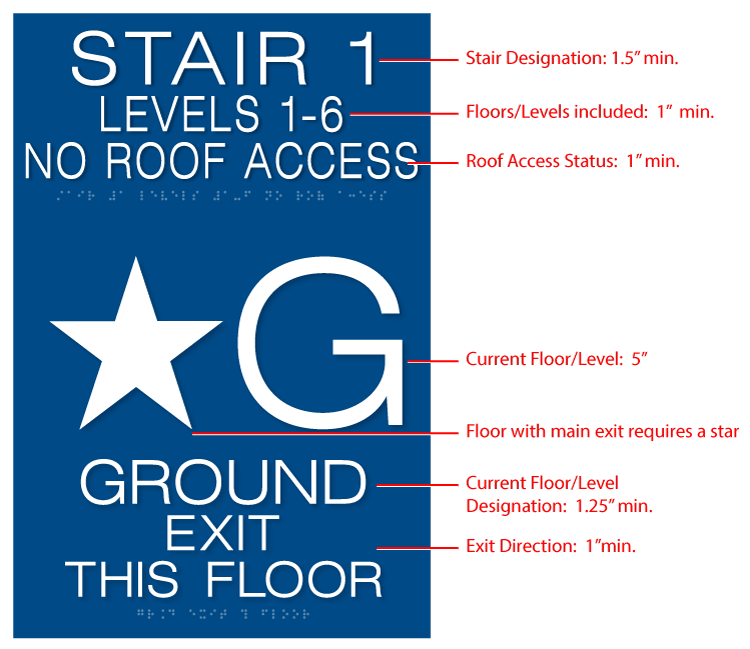 Tactile graphics raised 1/32 inch above base. Easy-to-read lettering in a high-contrast color. Dome-shaped Grade 2 Braille meets CA Title 24 requirements.
Adhesive foam mounting strips included on the back to hang sign on wall.
A made-to-order sign that ships within 5 business days for the standard color options shown.
Custom Color Options ship within 10 business days. SEE CUSTOM COLORS >
WASHINGTON DC NOTES: Buildings in DC must follow specific codes for IBC signs. CODE | DESIGNS
'SIGN NUMBERS' REQUIRED FOR PRODUCTION
After selecting a sign color, use the SIGN NUMBERS textbox to include the 5 required IBC/IFC components for each sign: stair name; stair includes floors or levels; roof access or no roof access; floor/level numbers/letters; which floor/level is main exit from building.
Example: if you need four blue signs, click the blue color option, list four numbers/floors information in the textbox, edit the Qty field to 4, then add those signs to the cart. If you also need two black IBC/IFC signs in that same order, repeat the process then add the black signs to the cart. Questions? Call 1-888-232-7491 or email us.
EXAMPLE SET OF IBC/IFC FLOOR STAIRWELL SIGNS
IBC/IFC signs are place on the inside of the stairwell, mounted on the wall next to latch side of door. Below is an example set of the IBC/IFC signs required for a building with a basement, three floors, no roof access and two staircases: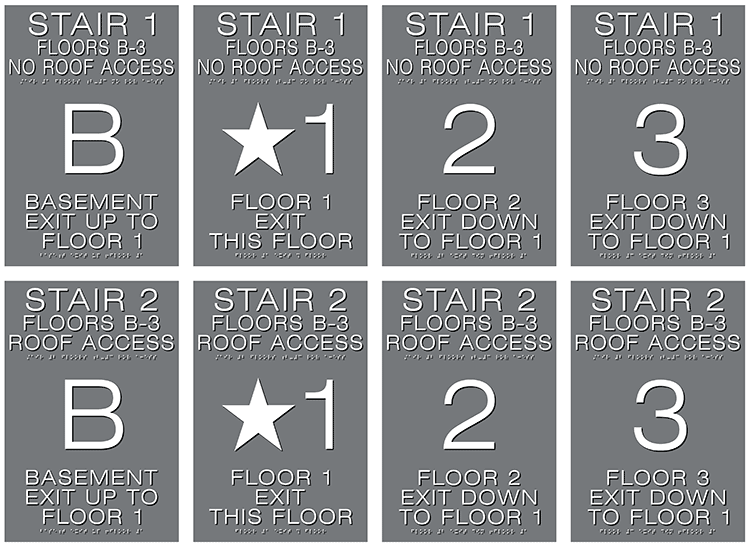 Additional information
| | |
| --- | --- |
| Weight | 10.00000000 oz |
| Dimensions | 12.0 × 18.0 × 0.0625 in |
| COLOR | BLUE / WHITE, BLACK / WHITE, GRAY / WHITE, TAUPE / BLACK, BROWN / WHITE, CUSTOM COLORS, STEEL / BLACK, COPPER / BLACK, LaserGlow / BLACK |